Empowering women through microcredit: A case from Northern Liberia
Nature preservation requires the provision of functional programmes for forest-edge communities. The fact is, communities closer to the forest, specially protected areas, most times depend on the forest for their livelihoods. It is against this backdrop that the Society for the Conservation of Nature of Liberia (SCNL) provides close to 12 million Liberian Dollars in the form of revolving loans to farmers and small business owners who are mostly women residing in forest edge communities in Northwestern Liberia, in an effort to build and strengthen their capacity.  
As an expansion to the loan program, SCNL under its Rainforest Trust-sponsored project, reached out to nine (9) other forest communities. Between October 25th, 26th, and 29th 2022, Ninety (90) women, comprising farmers, and small business owners from Yallahum, Yanohum, Kailahum, Pasulahum, Lukasu, Pasulahum, Dukor   Gbongo, and Vahun (Lofa County), received LD$20,000.00 each as loan to improve their local businesses.  SCNL Communication, Policy, and Advocacy Officer, Clara K. Mallah, and SCNL Monitoring Evaluation Learning and Reporting Officer Jamesetta Cheazar-Barquoi, in May 2023 visited loan beneficiaries in Lofa County to see 'first-hand' how the women are managing the loan programme. Before the loan program, most women were only into farming, but with the availability of the loan, beneficiaries have expanded into new businesses.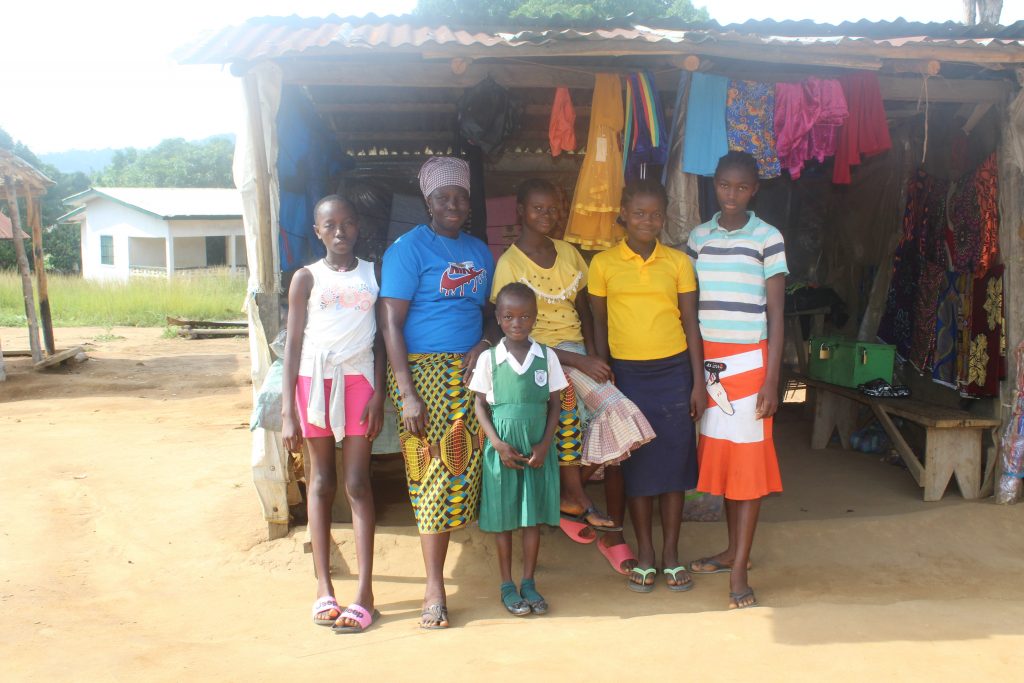 It is early morning in Vahun, and the beautiful district is surrounded by a community forest, with the morning dew thick in the sky like a cloud, and the sun takes time to rise. As students make their way to school, loan beneficiaries Baindu S. Brima and Jatta Mustapha are heading to the market to sell. Brima said the LD$20,00.00 received, she purchased additional goods and added the goods to her current business. She sells rubber dishes, tubs, bows, rubber spoons, etc. She said, "I have 12 children, both biological and adopted children I am taking care of, so the loan received has been an extended help in improving my business. The profit may be small, but I am working hard to ensure I repay the loan so I can continue being on the loan program".
Across SCNL's projects sites, roads leading to the forest edge communities are challenged with bad conditions, but for forest edge community dwellers in Dukor Gbongo, and Vahun, the bad road conditions have created a condition where they are no longer getting access to the city center areas in Liberia for transactions. Most of the residents go to neighbouring Sierra Leone to purchase their [goods and services]. Brima and Mustapha fall into that category. They go to Sierra Leone for transactions, and it is difficult because the transactions are done in 'The Leone' the official currency of Sierra Leone.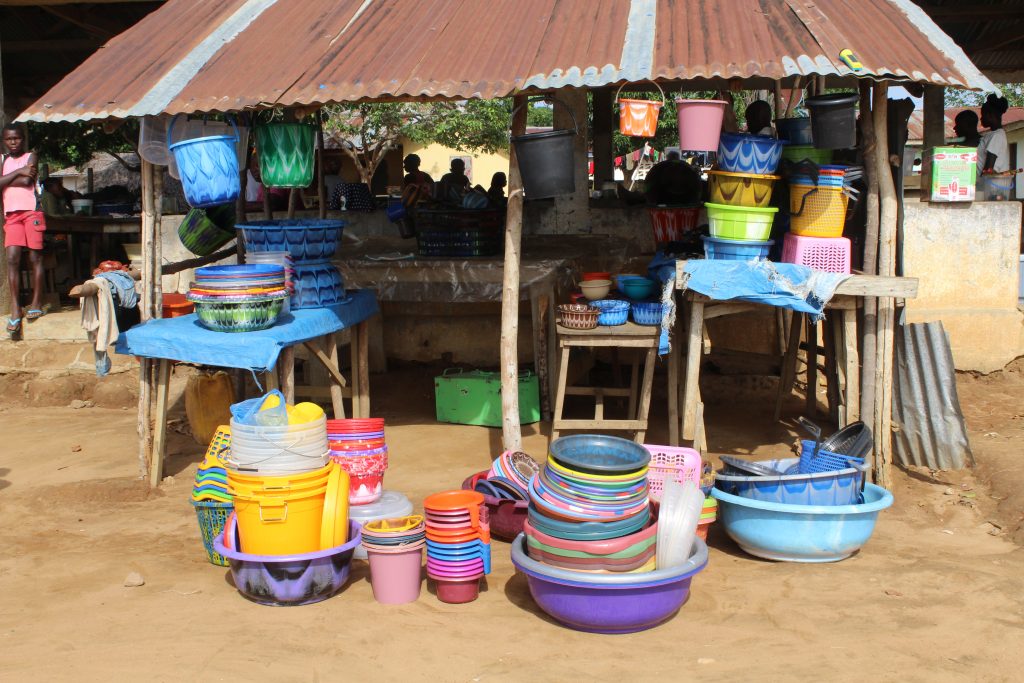 "When travelling to Sierra Leone, we go through a lot due to the bad roads, at the checkpoints, customs fares are taken from us, and we also have to pay for transportation fare to bring our goods, once all this is deducted using the Leone, the profit remains small, but we have to keep working because we have the loan to repay, and take care of the children," Brima stressed.
Just like the rest of the other women in Vahun, Baindu Brima sells from 7:00am-5:00pm, and sometimes, she makes between LD$2,000.00-3,000.00, approximately USD$25 or USD$ 30 per day. On difficult days, she goes home without making a sale. Besides the bad road conditions, the currency issues, the lack of internet, and the decrease in population in most forest edge communities, etc., also create difficulties for businesses.
Despite the constraints, the 60-Year-Old extended thanks and appreciation to SCNL and its partner for the loan. "I am a widow; all I have is the business to take care of my children. And we have many women who want to be a part of the loan program, so SCNL and partner, they should kindly increase the loan for other women to benefit," she said.
Jatta Mustapha, in a joyful and energetic mood, said she sells lappa, rubber slippers, hats, clothes such as dresses, blouses, etc. Just like Brima, the bad roads challenge, and the usage of the Leone were highlighted by Mustapha. "We can't travel to Kolahun side (Liberian side), due to the bad road, and no Liberian Dollars are coming to Vahun because of the bad road conditions, so, we go to Sierra Leone to purchase the goods. Though the loan is helpful, and I am working hard to repay the loan, these are the conditions we are faced with".
The mother of five, and three grandchildren, thanked SCNL and RFT for the loan program. "At least, we are eating soup now, unless before, we only ate dry rice… We want SCNL and the partner to increase the loan," Mustapha added.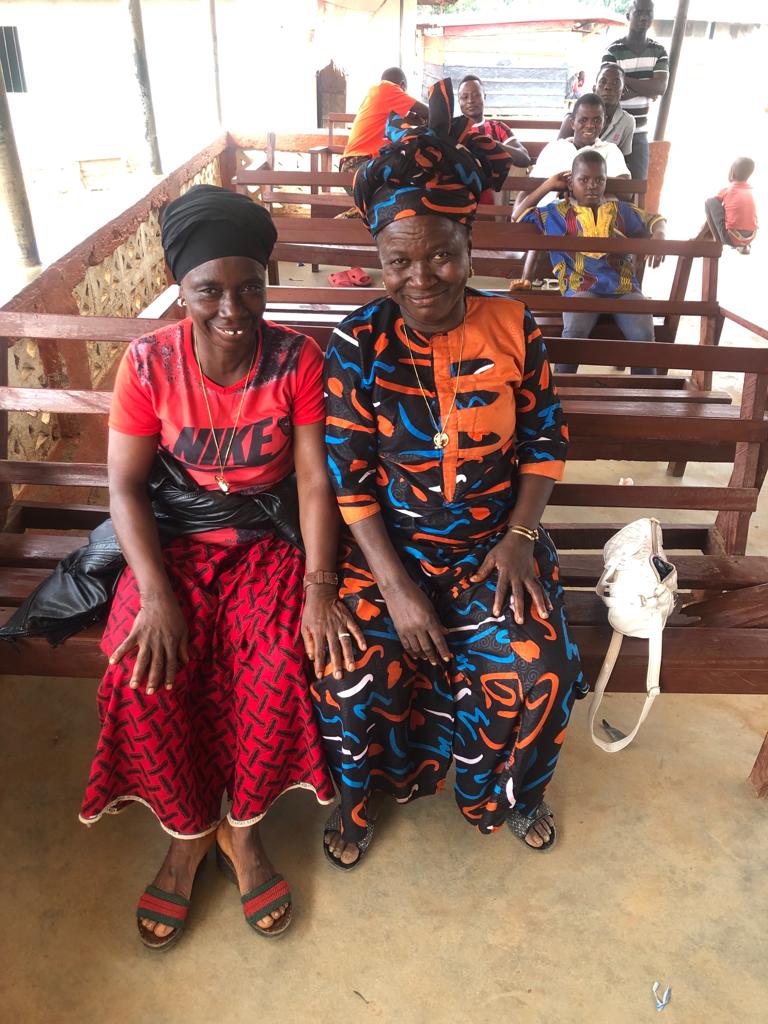 Jongbeh Konneh, Yandohun, and Yatta Kabbeh, Yallahun, aren't only into the traditional daily market business. The women sell in their respective towns but go out on the general weekly market days to sell wholesale goods. Konneh used the LDS20,000.00 loan received, and purchased dry goods to sell, including planting of beans and peanuts. She explained that with the help of the loan programme, the business is improving. She and Kabbeh travel on bikes for two hours or so to the nearby general market every Friday to sell red palm oil (wholesale).
"Things are a bit difficult, but we're trying. Every Friday is Kamatahun Market Day, we leave home by 6:00 am and return home by 4:00 pm. We sell red palm oil, peanuts, beans, etc. Sometimes business is good, other times, it is difficult. In all, we are grateful…because we have something to do to take of our children".
The 50-Year-Old is the mother of four and three grandchildren. She added that the loan program is profitable because it helps to pay her children's school fees, pay medical bills, etc. she also firstly, appreciates SCNL and the RFT and kindly requests an increment in the loan programme for other women to benefit as their is growing demand from other women.
Kabbeh, a mother of six, and three grandchildren, also used the loan to expand on agricultural activity, just as Konneh, by planting peanuts and beans. "When I harvest the crops, I take them to Kamatahun Market to sell…Before the loan came, I used to farm, but today, the loan program has helped me to start a business, while at the same time farming. I'm grateful," the 60-Year-Old said.
The women appreciate the loan programme and promise to keep making their respective businesses after the project ends.
SCNL Loan Officer, Yuconjay Noyu Barchue is proud of the women's groups that have been established. She said, "From my experience, these savings groups bring together communities with one objective, taking the loan to expand their businesses. Even though they repay the loan, it also helps them to pay their children's school fees, and support households".
The Society for the Conservation of Nature of Liberia (SCNL) was established in 1986 in response to the Liberian Business Law of 1976 for not-for-profit organizations with Business Registration Number: 051185951. The organization is a non-governmental, non-political, and not-for-profit agency. The SCNL as the Lead National Civil Society Organization for nature conservation has the mandate to educate, encourage and assist civil society understand the need and patterns of conserving nature, build consensus on effective management of biodiversity through ensuring the use of natural resources is sustainable and that biodiversity is effectively managed and appropriately utilized.