Ends retreat with donation, debate, and resolution
The annual retreat carryout by the Society for the Conservation of Nature of Liberia (SCNL) was meant to reflect on the past year, achievements, challenges, and a way forward gearing to improve the staff and the conservation work of the institution. The seven-day retreat started on 20th -27th January 2023. This year's theme: "Year of leading by example for SCNL growth" was held in Tubmanburg, Bomi County.
The retreat objectives were to Rebuild & strategize – to plan and strategize on organizational processes and effectiveness to build a strong and well-supported implementation plan for the year. Deliberate on and build consensus on organizational strength tactics to promote team building and stronger bonds. Reflections on the working modalities. Harmonization of working processes. Refresh –relaxing from day-to-day work schedule while improving work relations. Plan and ensure clear responsibilities for 2022/2023 activities.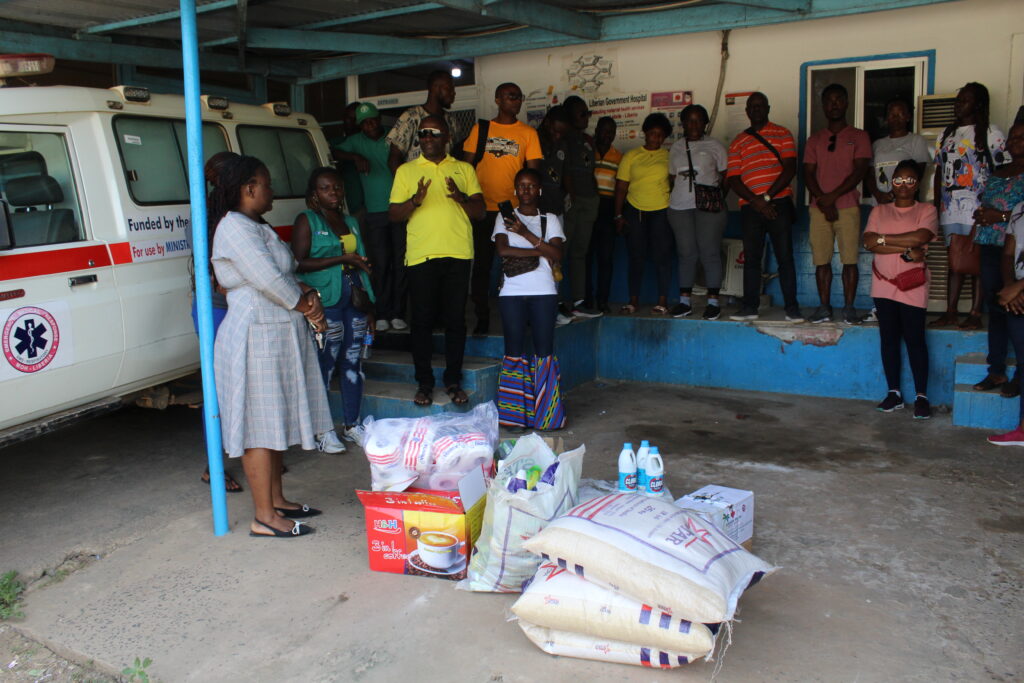 During the opening of the retreat, SCNL Executive Director, Mr. Michael F. Garbo, welcomed the staff, and a special message was delivered by the SCNL Board Member, Mr. Moses A. Massah, on behalf of the board of directors.  Program coordinators, the head of the county's offices, and the head of departments presented on progresses and challenges of their various projects. Work plans of various departmental heads were also presented at the retreat. Staff went hiking, and played a football match with students of the Forestry Training Institute (FTI).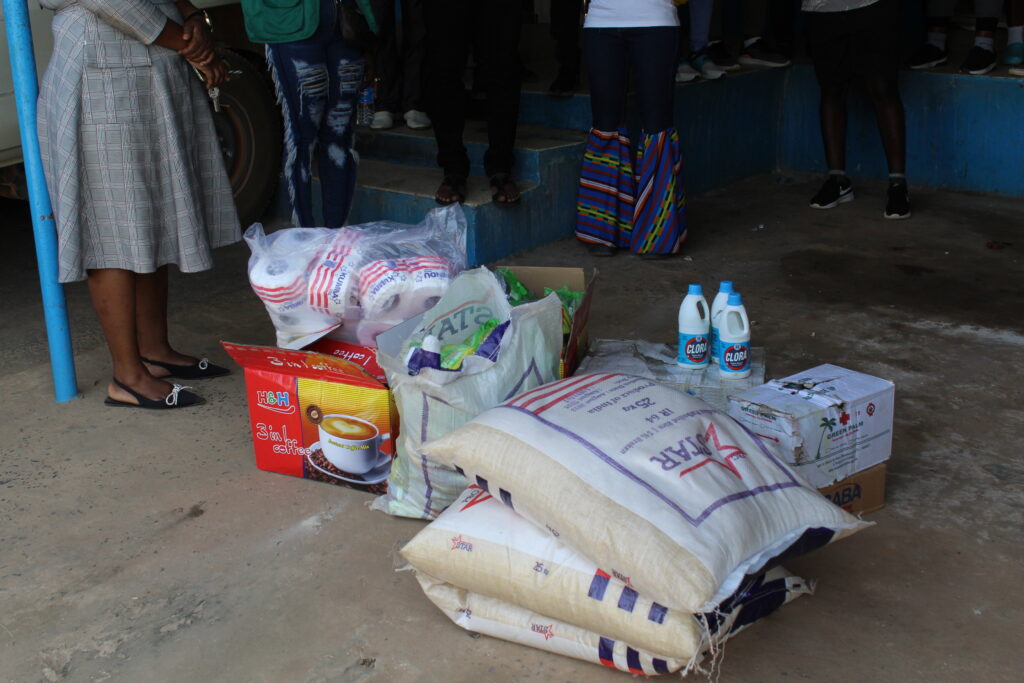 Donations at the Liberian Government Hospital
As part of activities climaxing the week-long retreat, SCNL extended a humanitarian gesture by donating food items and toiletries to the Liberian Government Hospital and patients in Bomi County. It was an exciting time when SCNL's staff arrived at the hospital. SCNL staff visited each wall and presented a package to patients, a gesture that was so much appreciated.
SCNL Finance and Admin Manager, Mr. Marcus Flomo, who presented the items, said the humanitarian gesture was a way of identifying with the hospital because of the work they're doing to save lives. "We know exactly what is involved in serving humanity, and so, we are glad to be here today to give you a little of what we have. It is often said, 'little is much when God is in it'. So, we hope this donation will help to go a long way in supplementing what you already have," he said.
SCNL Program Manager, Michael E. Taire, also making remarks after the donation, expressed senior medical practitioners at the hospital expressed gratitude for the donation and hopes SCNL will keep donating to the hospital. "We were proud to see the patients so happy because of the gifts received. It gives us the strength as an institution to keep doing more. We are also calling on goodwill people, organizations, and philanthropists to join SCNL in providing more assistance to the needy across the country," he said.
In appreciation, Mr. Joseph F. Kanneh, Administer, Liberian Government Hospital, Bomi County, on behalf of the management of the hospital, extended a big thank you to SCNL for thinking about the hospital and patients, through humanitarian service. "Other people haven't been thinking about the hospital, but you, [SCNL] had come to assist. This means you were directed by God to do so. Again, thank you, we are grateful to God for you, and appreciate you".
Debate between C. H. Dewey Central High School and St. Dominic Catholic High School
Also, to encourage young people to take an interest in conservation, SCNL held a debate between C. H. Dewey Central High School and St. Dominic Catholic High School, under the theme: Is Eco-Tourism Beneficial to the Environment? The one-hour thirty minutes debate was interactive. Mr. Flomo welcomed both schools and said the program was in line with the work of SCNL in conserving nature. "We chose to have the debate because in our mission statement, we educate people on the importance of nature, and the topic you're about to debate falls in line with what we are doing at SCNL. We hope you prepared well for the debate, and we hope you will do your best to win," he said.
Providing the overview of the program, Mr. Taire, on behalf of the SCNL's board of directors, and the Executive Director, Mr. Garbo, welcomed the students. He shared that SCNL is a conservation organization, established in 1986, to help the government set up more protected areas across the country. "SCNL is considered the oldest conservation in Liberia, since its establishment, the non-profit organization has been working with the government, international organizations, and partners, helping to conserve nature. We have helped the government to establish Gola and Sapo National Park as fully protected areas. Along with the Wild Chimpanzee Conservation Foundation, we also helped the government to establish Grebo-Krahn National Park," he informed the students.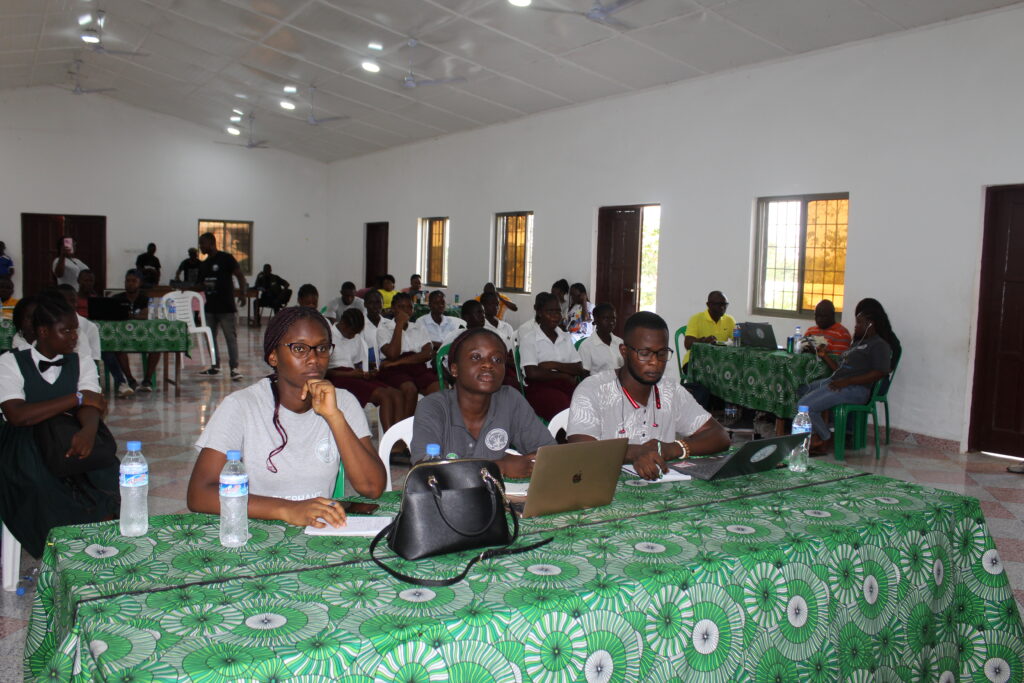 The program manager, who wished both schools well, said SCNL has worked with schools, with an interest in working in conservation to establish Nature Club in several high schools, such; RobertSport, Gbarpolu County, precisely, Kongba, Grand Bassa County, etc. "We hope in 2023, SCNL can work with your schools to establish Nature Club, because we want [each of you] to grow an interest in conservation so that when you leave high school, you can start a career by enrolling at the FTI or the University of Liberia (UL).
C.H. Dewey Central High School won the debate, and walked away with LD$5,000.00 prize, while 2nd winner, St. Dominic High School, walked away with LD$3,000.00. Herrietta T. Morris, 11th grade, C.H. Dewey Central High School, Solomon Forh, Jr. 12th Grade, St. Dominic Catholic High School, Bomi County, extended appreciation to SCNL, and fellow students for participating in the debate. Morris said, "Bravo to us for winning… St. Dominic Catholic High School, don't feel defeated, it was a battle, and we all have won. Thanks to SCNL and our school administration, who granted us this opportunity to participate in the debate. We appreciate everyone".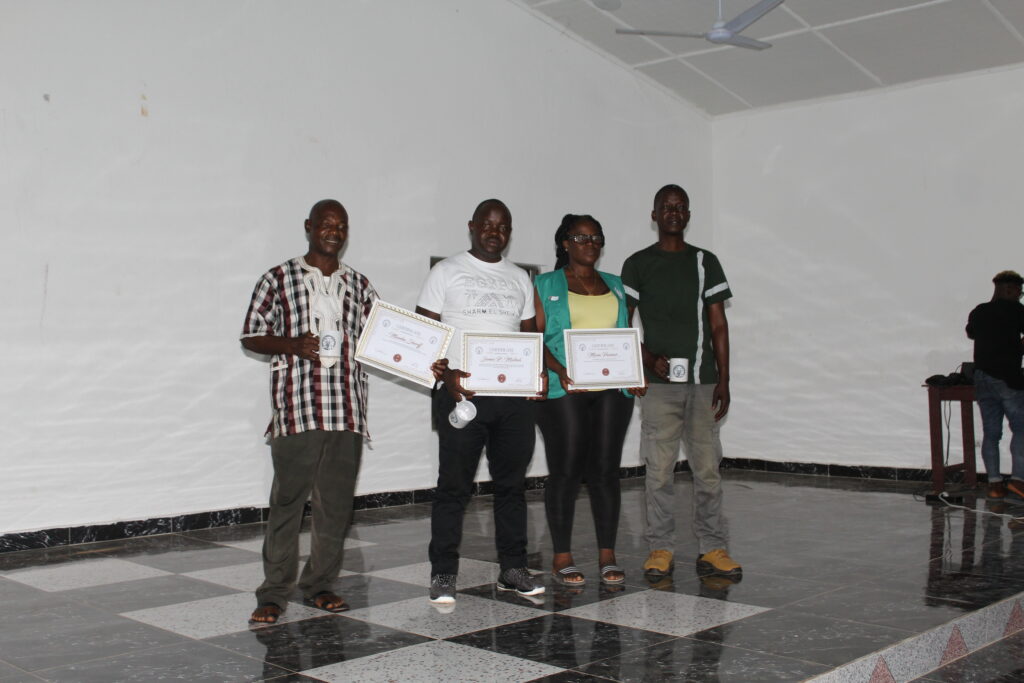 Awarding deserving staff
SCNL also presented awarded five deserving staff with awards for their hard work and dedication to the growth of the institution. James P. Mubah (Employee of the Year), Massa S. Passawe (Longest Serving Employee), Abraham B. Flomo (Conservationist Award) and Raymond Ballah Kpoto, and Mambu S. Sheriff, dedicated Service to SCNL. Mulbah appreciated SCNL Annual Retreat Committee, 2022, and the entire SCNL Family for the recognition and award. "My motivation comes from the Musician, Mohammed Deen, in one of his songs: "No One Knows Tomorrow". It says anything you want to do in this life, do it well because no one knows tomorrow…. You may not know who is watching you as you perform your daily tasks, but do it with all your energy in getting the needed results. Let the award serves as motivation to staff and communities as we strive to conserve nature".