Three SCNL's Staff Visit Lekki Conservation Center (LCC)
Gaining knowledge for the advancement of tourism in Liberia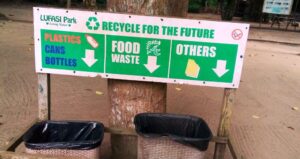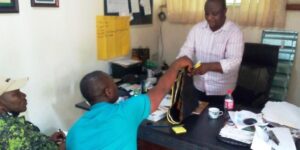 Tourism creates jobs, develops infrastructures of countries, and plants a sense of cultural ecotourism exchange between foreigners and citizens.
It is against this backdrop that the Society for the Conservation of Nature of Liberia (SCNL), an organization protecting wildlife, and the forest continued to work for a safer environment. Through the Rainforest Trust Funded Project, three SCNL staff: Program Manager, Michael E. Taire, Project Coordinator, Rainforest Trust, Richard Hoff II, and Eco-tourism Officer, Adolphus Tiah visited the Lekki Conservation Center (LCC), Lagos, Nigeria for observation and exchange of ideas on how to improve tourism in both countries.
At the LCC, SCNL's staff toured the facility and presented souvenirs such as; crafted art clothes designed with the pictorial interpretation of the local community, printed t-shirts (illustrating the activities of SCNL in Liberia), and calendars to the Director of LCC, Adedamola Ogunsesan. In return for the kind gesture, the LCC also presented SCNL with souvenirs such as; bird guides, environmental education curriculum/teaching guide, stationery pens, notebooks face caps, etc.
At the LUFASI Nature Park, a sanctuary established to preserve indigenous plants and animal species of Nigeria, SCNL's team visited the and saw birds are that listed under the International Union for Conservation of Nature ( IUCN) protected species in the world. The park also has an artificial island, a fish pond, a playground for kids, and a zoo with different kinds of monkeys, turtles, donkeys, and birds that have been brought there for their rescue.
Richard Hoff II, said the staff appreciate SCNL and the Rainforest Trust for ensuring the trip was successful. "Our visit was quite insightful, we were briefed about LCC's walkway, because it is the longest walkway in West Africa, after the Kakum National Park in Ghana. We also learned about the canopy built at the LCC because it is seven meters high, something SCNL hopes to build in Liberia," Hoff shared.