Expanding trading opportunities for Gola Cocoa
The Society for the Conservation of Nature of Liberia (SCNL) through Partnerships for Forests (P4F) on May 25-26,2023, conducted a four-day intensive training on "Forest Friendly Standards' for ten master farmers from Sebehill Cocoa Cooperative in Massabolahun, while the same training was conducted on May 28-29,2023, for ten Master Cocoa Farmers from Guma Mende Cocoa Cooperative in Vahun, Lofa County. 
The objective of the training was to teach cocoa farmers the good agriculture practices of cocoa farming using the [Forest-Friendly] approach around forest areas. The farmers were taught how to maintain shade trees in their cocoa farms, plant a 5KM Buffer Zone away from the forest areas, farm sanitation, quality control, and pest and disease management.
The Fores -Friendly Standards training was conducted by SCNL Cocoa team for the master farmers not only for 'Good Forest-Friendly Standards' practices on cocoa farms maintenance but on organic quality control management of cocoa production.
The practical aspect of the training was conducted on May 29, 2023, in order to identify forest-friendly practices and make recommendations to cocoa farmers in their communities.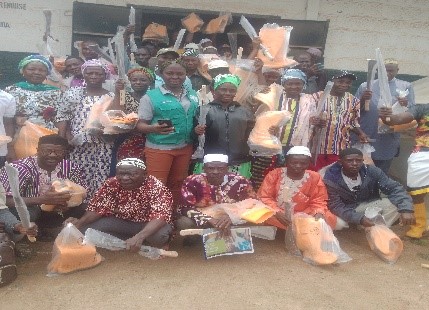 After the training, 50 cocoa farmers from Sebehill Cocoa Cooperative received Agriculture Inputs in Massaboalahun, while another 50 cocoa farmers from Guma Mende Cocoa Cooperative received agriculture materials from SCNL-P4F Project. The materials were distributed among potential cocoa farmers to maintain their cocoa farms in other to produce quality cocoa during each harvesting season.
.