Joining hands in protecting humans' closest relatives
The Society for the Conservation of Nature of Liberia (SCNL), on July 14, 2023, joined Wild Chimpanzee Foundation (WCF), the Forestry Development Authority (FDA), Humane Society International Liberia (HSIL), West Africa Biodiversity and Low Emissions Development (WABiLED) and other partners including citizens of Saclepea City, Nimba County, to celebrate World Chimpanzee Day. The program, which began with a parade on the Principal Streets of Saclepea, was organized by WCF, under the global theme: Chimpanzee needs heroes! Let's stand up for them.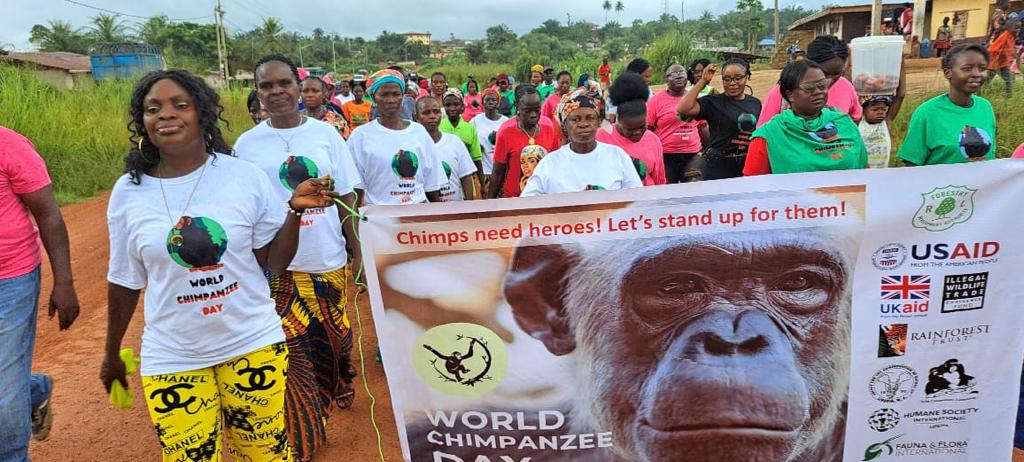 SCNL head of Science and Conservation, Mr. Dickarmien A. Deemie, represented the institution. Making remarks, he said chimpanzees are critically endangered and are protected under Liberian Law, and it is illegal to harm, capture, keep, or kill them. "The potential of chimpanzees to attract tourists will then boom the national economy.  Social behavior of chimpanzees (culture, smartness, etc.), which makes them our closest relatives, and also plays a good role in the growth of forests," he said. The head of Science and Conservation further emphasized SCNL's contribution to 'chimpanzee conservation' in Liberia and the institution's continuous commitment to working with partners in ensuring adequate protection of chimpanzees.
World Chimpanzee Day is dedicated to raising awareness about humans' closest living relatives in the animal kingdom, with whom humans share about 98 percent of their DNA. It is held on the 14th of July each year and was established by the Jane Goodall Institute.