120 Youth Eco-Brigade recruited to serve as Environmental Stewards in Voinjama, Lofa, and Zwedru, Grand Gedeh Counties
The current anthropogenic(human) interference with the environment leads to the growing effects of climate change leading to storms, flooding, erosion, rising sea levels, water, air and soil pollution, and health impact that impede human well-being. To curb these environmental challenges, the Society for the Conservation of Nature of Liberia (SCNL) with support from the United Nations Development Program (UNDP) through the Ministry of Commerce and Industry of Liberia in collaboration with the Environmental Protection Agency (EPA) of Liberia, recruited 120 (60 -Voinjama, 60 -Zwedru) Unemployed and Marginalized youth in these two Cities of Liberia between July 27-August 5 2023. The Landmark names given to the two Eco-brigades are: Voinjama Eco-brigade known as Wologisi Eco-Brigade while Zwedru Eco-brigade is called Zulu Eco-brigade. The recruitment exercise was initiated with awareness on two radio stations: Voice of Lofa, Voinjama City and Smile FM in Zwedru City. All these relevant stakeholders (Superintendent & Mayors) commended SCNL and UNDP on this timely intervention to reduce unemployed youths and to foster the sustainable livelihood of citizens in Voinjama and Zwedru cities while at the same time protecting their environment.
About one hundred forty-five (145) participants were present at the recruitment of the Wologisi Youth Eco-brigade including Mr. Samuel Mulbah, Asst. Development Superintendent, Hon. Korto Harris, City Mayor, Mr. Anthony S. Armah, Sr, Commissioner, Mr. Patrick K. Manjoe, Protocol Officer and Mr. Ambrose A.B.C. Jamina, Environmental Protection Agency (EPA) County Inspector, communities' leaders along with interested youth volunteers. Sixty (60) youths known as the Wologisi Eco-brigade (M-28, F-32) which include People with Disabilities (PWDs) were recruited. This recruitment was done on July 31, 2023 at the Voinjama City Administrative Building.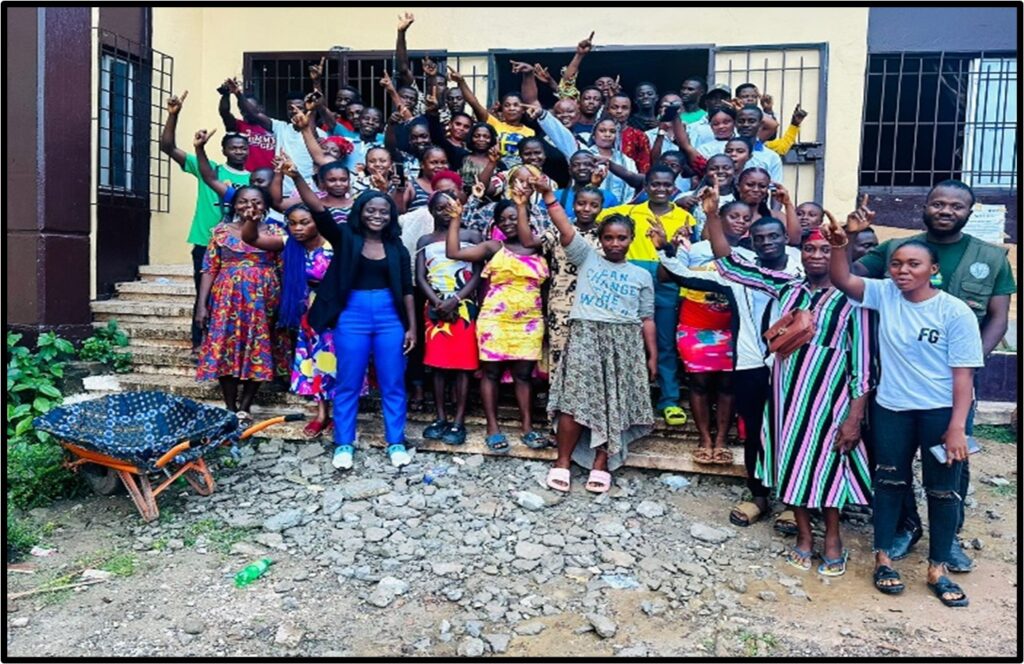 Similarly, on August 3, 2023, approximately one hundred forty (140) participants comprising Zwedru stakeholders including Hon. Cecelia Harris Jolo, Zwedru City Mayor, Mr. Othello H. Gbayor, Human Resource/City Council, Mr. Youseoh Desuh, Ministry of Youth and Sports County Coordinator, communities' leaders and interested youth volunteers were in present to form part of the program. An initial stakeholder meeting was held with the team of SCNL and the City Mayor/Zwedru to get the buy-in and consent of Hon. Kai G. Farley, the Superintendent of Grand Gedeh County. Like everywhere else, sixty (60) Zulu Eco-brigade (M-23, F-37) were recruited.