…Finding ways to strengthen LCF
The Wildlife Conservation Society (WCS) with funding from the Forestry Development Authority (FDA) under the Liberia Forest Sector Project, (LFSP), held a one-day consultation workshop on March 22, 2023, in Monrovia. The one-day consultative meeting under the theme: "Advancing the Liberia Conservation Fund as a National Protected Areas Financing Mechanism", was attended organized by SCNL and attended by the Liberia Conservation Fund (LCF) Board of Trustees, FDA representatives, representatives from CSOs, and NGOs, GVL, and the Swedish Embassy, etc.
The WCS was contracted by FDA, under the framework of the Liberia Forest Sector Project, (LFSP) to provide an independent set of recommendations regarding the LCF. WCS has extensive experience with Conservation Trust Funds (CTF) and has worked with government and stakeholders to establish funds in Uganda, Madagascar, Mozambique, and Tanzania, and through its cooperation with the Conservation Finance Alliance is intimately familiar with CTFs in Côte d'Ivoire, Guinea Bissau, Benin, Cameroon, and Mauritania.
The LCF was established in 2018, initially as a UK charity and subsequently as a US tax-exempt nonprofit. The Fund was initially capitalized with $1M from the International Conservation (CI) community via the Global Conservation Fund at CI; other planned contributions from the private sector and the Government of Liberia, of $1M each, did not materialize. The Fund has grown to over $1.3M through investments; no grants have yet been made. The Fund was designed to support Liberia's protected areas (initially the East Nimba Nature Reserve but not restricted to ENNR).
SCNL Executive Director, Mr. Michael F. Garbo, welcomed the participants and said the meeting was important because when finalised, it will improve the LCF, which will help to improve conservation work in Liberia. "SCNL is working along with WCF to get this document finalised. I encouraged conservational institutions in attendance to listen to the presentations, and make inputs, so Liberia can have a conservation trust fund to rely on while raising funds to support conservation work in the country," Mr. Garbo added.
David D. Dennis, CI, Project Manager, Marshall Landscape, making remarks, said CI was glad to be a part of the program to share with stakeholders and partners in the conservation landscape how LCF can be managed. "We are here to discuss the conservation trust fund for Liberia, this was something developed with CI and FDA, back in 2018. CI, as an institution, through the Global Conservation Fund (GCF), made an initial deposit of a million dollars…it is good for international partners to brainstorm on how important the trust fund is, and how partners and conservationists can develop strategies for conservation matters, in order to access funding available".
Jerry G. Yonmeh, FDA, Technical Manager, Conservation Department, making remarks on behalf of the FDA Managing Director, Mike Doryen, said the Liberia Conservation Trust Fund has been around for a while, but the process of lifting it to be in action has been slow. Mr. Yonmeh shared most people haven't understood what the concept of the CTF is, how can the money put in the trust fund can be used, who can use it, etc. He said some of the conservation works have been intricated based on some laws passed, especially in Liberia Land Authority (LLA), that granted communities rights to own land (Forest).
"The issue of commercial forestry, where communities are eager to do logging, and conservation hasn't been able to demonstrate that it can build roads, and provides tangible livelihoods for the communities. So, in an attempt to meet livelihoods, communities engage in logging, and other activities harmful to the forest. We know Liberia came from a war a long time ago, but there are still lots of issues the government is faced with. We are counting on your partners to work along with us to this aspect of conservation can be taken from a table discussion to a tangible, practical approach".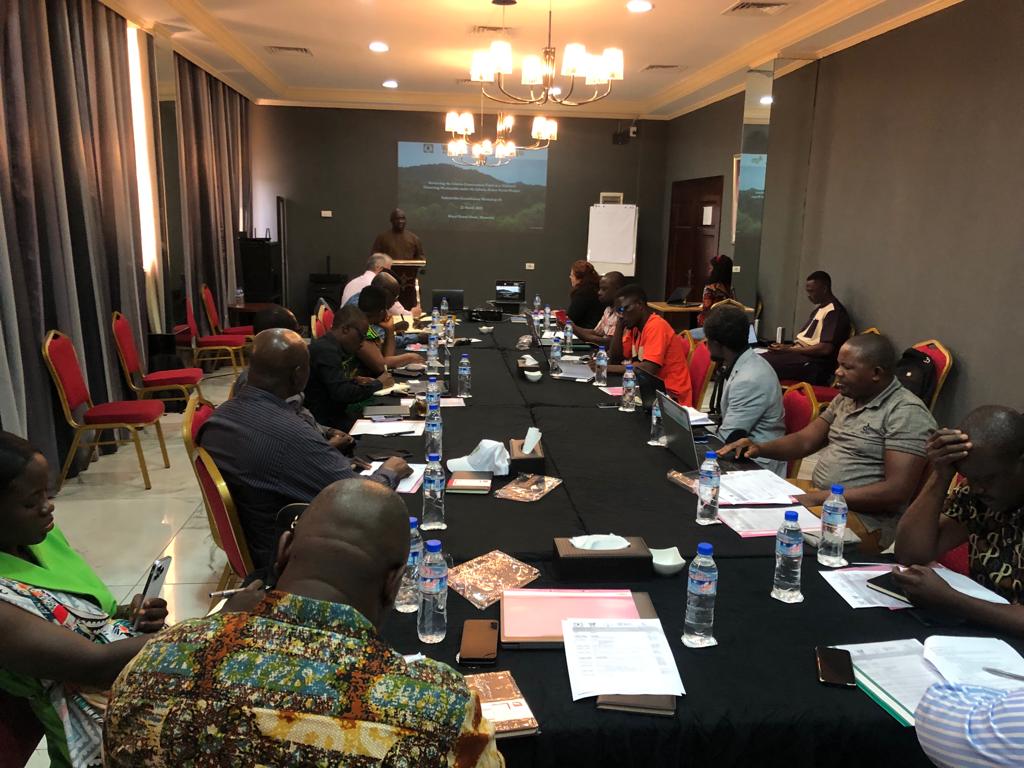 Overview of Conservation Trust Funds was presented by Katy Mathias, Conservation Finance Project, Wildlife Conservation Society based in America. What is the benefit of an expanded Liberia Conservation Fund? Summary project findings were presented by Stephen McCormick, Consultant Skillful Means also based in America. After the presentations, there were questioned from the participants, and plenary discussions were held. The presenters addressed the questions, and points from the plenary discussion were presented.