Elephant Falls – the inner circle of the Green Gold in Liberia
Located in Camp Israel, a small town of approximately 1000 residents in Grand Cape Mount County, is the gateway to Elephant Falls, one of Liberia's inner circles of green gold. Though artisanal gold mining is the main livelihood activity in the neighboring communities of Whanjue and Fula Camp, the inner green gold is embedded far inside the Forest Landscape of the Gola Forest National Park (GFNP) in Liberia. Access is provided by a seven-kilometer forest track currently being maintained by the European Union (EU) funded PAPFor Project, with the support of Camp Israel community and the GFNP Rangers.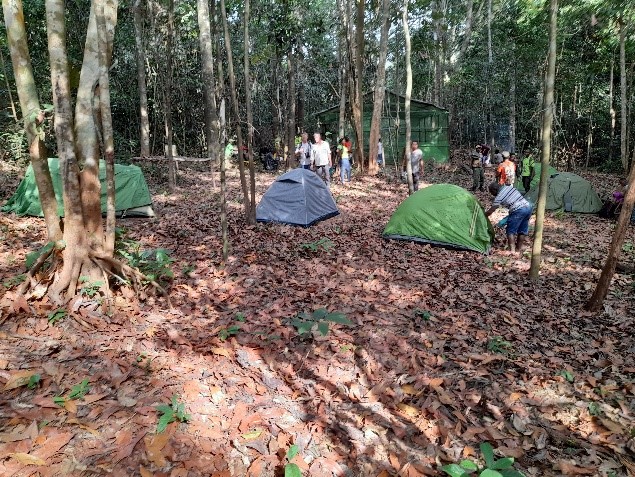 Strategically anchored on a stretch of waterfalls and rapids on the Mano River in the heart of the GFNP, the Elephant Fall has been earmarked by [ecologists and field staff] as an ideal ecotourism site. A study commissioned by the Forestry Development Authority (FDA), the government body responsible for forest conservation and management, confirmed that the GFNP, which envelopes Elephant Falls is perfect for forest-based ecotourism.
The Falls presents a remarkable rock gorge which makes water rushing downstream great for sightseeing. The major rapids are in two sections and a top table river setting harbors species of fish waiting for science expeditions and studies. Populations of short-snouted and long-snouted crocodiles live in the river systems of Mano. The high canopy forest landscape around the open waterfalls gives the natural setting a scenic view of great beauty. In its vast plains, comprising forest birds and plants, the Elephant Falls presents an amazing place for bird watching. Walking on the foot trails that lead to the forests on the bank of the Mano River is an eye-catching experience. This spectacular phenomenon in the middle of the forest provides a wonderfully scenic setting for camping.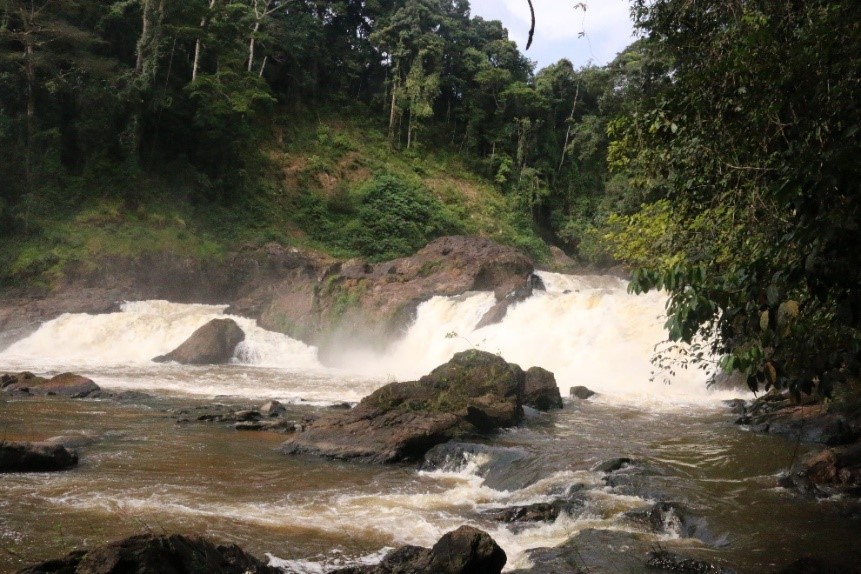 Under the PAPFor Project, the Society for the Conservation of Nature Liberia (SCNL) has constructed basic bathroom facilities to provide alternative livelihoods for women in Camp Israel. Local foods will be on sale, and visitors can request a guided tour of the forests.
Planning for ecotourism requires high consideration for conservation values and the future of ecotourism lies in its sustainability. The sustainable management of Elephant Fall is one of the components of the integration of forest conservation for the revival of the economy. Keeping the attributes of the Inner Green Gold is equal to saving money for the future of incoming generations of Liberians.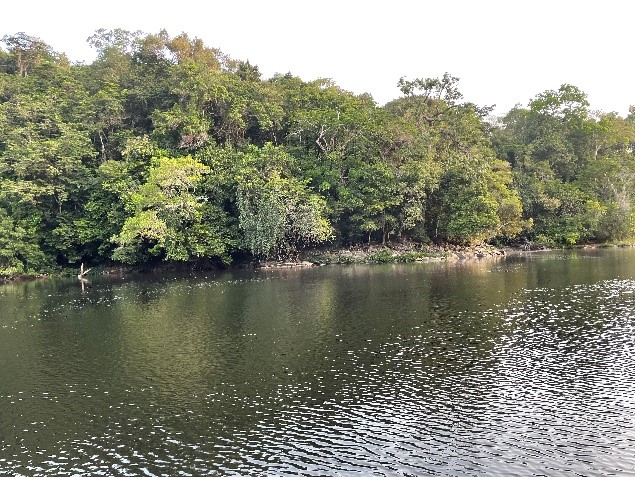 Receiving the bath of nature on weekends at the Elephant Falls in Gola will be an unforgettable pastime for local and foreign tourists. This will add value to life by getting away from the hustle, bustle, and traffic congestion of the capital Monrovia.
For more information on planning trips to Elephant Falls in Gola, contact the Protected Area Department of the Forestry Development Agency (FDA) and SCNL. Email: @info@scnlliberia.org
The production of this information sheet is made possible by the @EU International Partnerships , EU-sponsored PAPFoR (Gola-Foya Landscape)